Loyal TGR readers will appreciate the irony of this post's headline on a couple different levels.
Level One:
The year's biggest brand name CEO search is based in Redmond, Wash., home of software giant, Microsoft Corp. The position is currently open following the pre-announced retirement of current CEO Steve Ballmer who will reportedly remain in the position for 12 months or until the new CEO is named. When the decision was first announced in August, headlines carried the typical echo chamber fare. Holman Jenkins at the
Wall Street Journal
opined that only Bill Gates could save Microsoft:
http://online.wsj.com/news/articles/SB10001424127887323906804579038852114518482
Steve Ballmer -- courtesy 9to5macfiles

Now four months later, hardly an eternity, the position remains unfilled despite frequent speculation on CNBC, "Business Insider" and other outlets that Ford CEO Alan Mulally or an internal candidate will become the next CEO of Microsoft. The company's long dormant stock value recently moved back past Apple on the S&P index, giving new meaning to the empty CEO reputation factor. Where Microsoft goes from here is anyone's guess; in the meantime, the company seems to be doing just fine despite having no leader and reportedly a divided board, according to the WSJ. Another major company mirroring similar situation is Wal-Mart, which quietly named a successor last week right before Turkey Day.
Alan Mulally -- courtesy BusinessInsider (duped pix)
Here's an initial takeaway for additional comments (please respond either directly or in the comments section below.) Maybe, just maybe, in large complex businesses, it doesn't matter who is CEO? Microsoft has businesses that are as large as some Fortune 500 companies. As long as the board does its job overseeing long-term direction and strategy, the CEO position isn't nearly as critical as advertised. That can always change. But for now the search seems like a real so what. The only path forward seems to be a return to the past, a rock star CEO who can sit above other lesser knowns. That list is hard to come by, and despite previous reports, really can't include Bill Gates with a straight face. Or can it?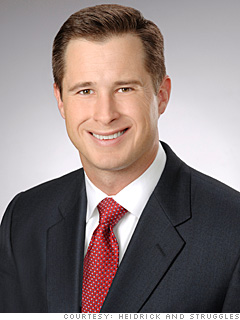 Jeff Sanders -- Slammed! Courtesy Fortune
Level Two: The firm who is helping Microsoft find a new CEO is Heidrick & Struggles, a 60-year-old player in executive search, which by most reasonable measures, represents an industry in flux. Heidrick reportedly is looking for their own CEO as well with internal vice chairs, Bonnie Gwin and Jeff Sanders leading the search, according to the fall issue of Executive Search Review. Sanders also is deeply involved in the Microsoft search, according to unnamed sources. Official attempts to confirm this fact were not made for reasons not worth going into. Despite lackluster financial performance over the past few years and refusal to accept a new direction, which resulted in the previous CEO and other key players leaving, Heidrick and Struggles remains highly competitive. Some observers readily concede that despite attempts to kill the brand no one has been able to complete the act. The company is currently being directed by long-time insider, Jory Marino, who holds the interim CEO title and led efforts to ring the NASDAQ bell earlier this month, marking the firm's 60th birthday.
If Heidrick's intent is to return to private status, then the economics need be favorable to justify the move. Access to capital is more open on the public markets, and private equity no longer seems to be an option after a previously rumored takeover by the Blackstone Group either fell short or wasn't real. Several other attempts to return to private status have been unsuccessful over the past five years. These have been thwarted either because the financials were not favorable or the previous CEO held up the process -- depending on whom you choose to believe.
At any level, as Thomas Wolfe once wrote, you can't go home again. Not doing something is doing something. It's time for both previously mentioned major company and search firm to turn their respective pages. The world right now could use a little change to believe in.
# # #